By Avani Adhikari
When Kebron Gurara (Class of 2021) first applied to Yale-NUS College, he was very pessimistic about his chances of acceptance. "I questioned whether it made sense to hope [for an acceptance] based on the amount of aid I would need."
So when he eventually received the Yale-NUS acceptance email, Kebron was pleasantly stunned. "I was awarded the Stephen Riady International Excellence Scholarship. Receiving this scholarship alleviated my financial worries," he said.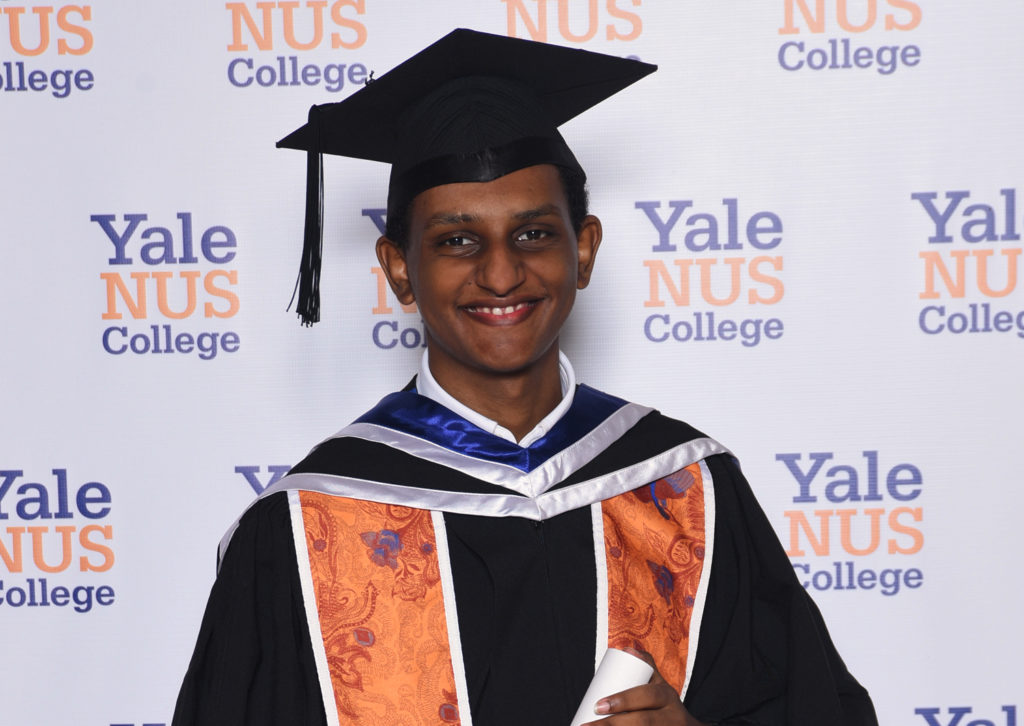 Kebron, graduating recipient of the Stephen Riady International Excellence Scholarship.
Michelle Tan (Class of 2021) echoed similar sentiments of gratitude when describing her reaction to receiving the Decision Science Agency Study Award that funded her college experience. "This study award has been instrumental to my involvement with various facets of college life. Without having to worry about finances, I could spend time being fully engaged with campus life."
Like many of their graduating peers, Kebron and Michelle were able to participate in a wide range of experiential opportunities at Yale-NUS due to the generosity of our donors.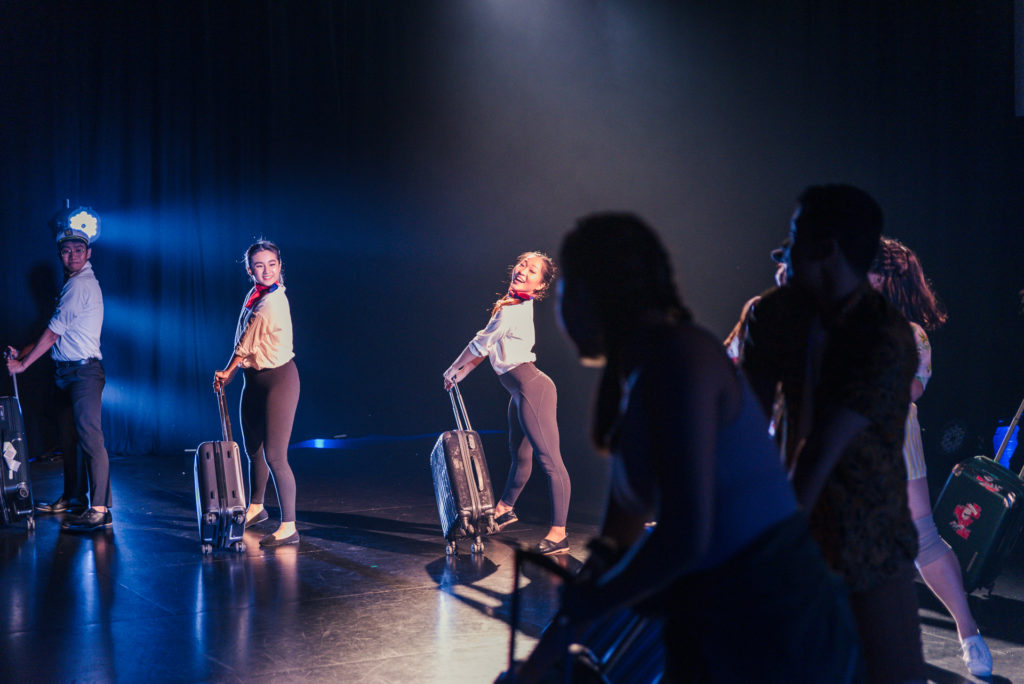 Michelle (second from left), graduating recipient of the Decision Science Study Award, performing for the annual Society of Yale-NUS College Dancers (sYNCd) showcase 2019.
In her four years at the College, Michelle has been an active member of student organisations such as the Society of Yale-NUS College Dancers (sYNCd) and the peer-counselling group, "P.S. We Care".  She also undertook a leadership role as a Residential College Advisor (RCA) to guide incoming first-year students.
For Kebron, he was discovered his interest in biophysics during his formative years with the College and will be pursuing a doctorate in this field after graduating. On what he would miss most after graduating, Kebron shared, "I will miss living so close to many of my friends. Even in the depths of academic stress, it was hard not to cross paths with people. I doubt that life after college will accommodate such spontaneity."
Similarly, for Michelle, the close campus community was a big part of her Yale-NUS journey. "I will miss the community at Yale-NUS the most – particularly the opportunity to be able to know people from different cultures and backgrounds, all within just a 10-minute walking distance."
Beyond campus living, the generosity of our donors has enabled students to broaden their learning experience and pursue topics of interest to them. Maximilian Heidegger (Class of 2021), for example, was able to spend a summer deepening his knowledge in Chinese culture and language, because of the Chinese Language Scholarship supported by the Tan Chin Tuan Chinese Language and Civilisation Programme. The experience eventually impacted his chosen pathway after graduating.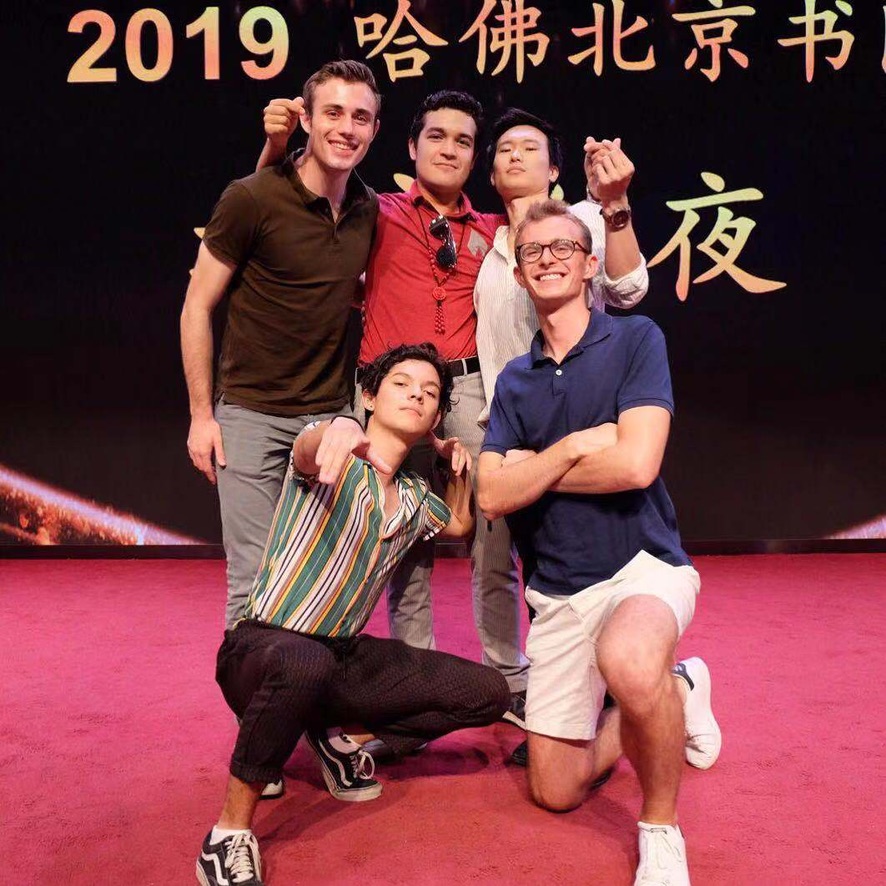 Maximilian Heidegger at the Harvard Beijing Academy closing ceremony, held at Beijing Language and Culture University on 7 August 2019.
"Professionally, I realised that I would like to stay in (South)east Asia upon graduation and pursue a career in the region," he said.
"My summer experience has doubtlessly changed my trajectory pertaining to my professional aspirations for the future, and I believe that opportunities like the Chinese Language Scholarship are one of the key components of what makes the Yale-NUS experience so distinct," he added.
Growing up in rural Austria, the international opportunities, which were made possible through donors' support, have encouraged Maximilian to learn about a world quite different from his upbringing.
"Moving forward, I will miss how Yale-NUS gives us unparalleled access to experiences like these through the many resources that are at our disposal. Whether it is the chance to discuss your thoughts on society with a leading professor in the field or attending events with world leaders, Yale-NUS has provided me with all these opportunities at my fingertips every day," he shared.
Betina Andrea Kapunan Choa (Class of 2021), recipient of the Broad Peak Global Engagement Internship Grant, was also presented with the Class of 2017 Award at the Graduation Ceremony. The Class of 2017 Award recipient is nominated annually by the senior class for outstanding contributions to the College and made possible through the generosity of Mrs Doris Sohmen-Pao, in honour of the inaugural Class of 2017 at Yale-NUS College.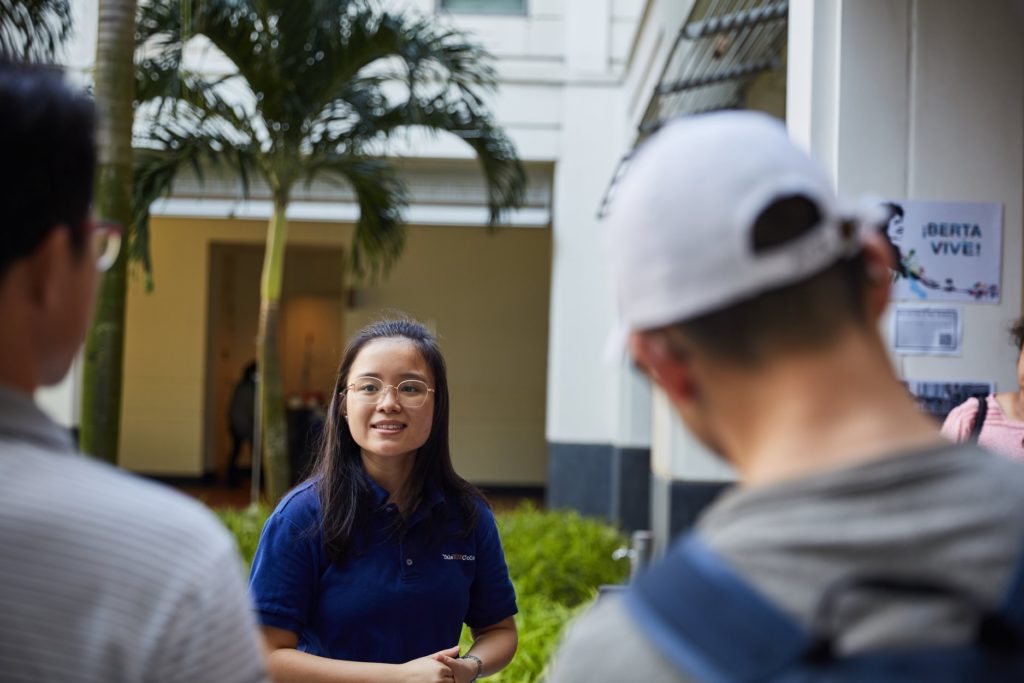 Betina, recipient of the Class of 2017 Award and the Broad Peak Global Engagement Internship Grant, giving a campus tour in 2019.
Betina, who was Class Day Speaker, shared that the generosity of Yale-NUS donors has supported her professional and personal development. Through the Broad Peak Global Engagement Internship Grant, she was able to complete a summer internship at The Majurity Trust. "It was my first internship experience — and my first work-from-home experience — so initially, I worried a lot about whether I would be able to do my work well, especially amid the circumstances. Through the challenges I faced, I was grateful to have been able to work with such an understanding and encouraging team who I felt were also committed to my learning."
"Yale-NUS has really challenged me to think about issues in nuanced and innovative ways, and I hope to be able to apply the skills I've learned through my personal, academic, and professional experiences to the work that I hope to do in my home country, the Philippines," she said.